"See how the Lord in his love shows us the way of life."
Prologue 20
It is the liturgical season of Lent as I write this.  Is it for you as well?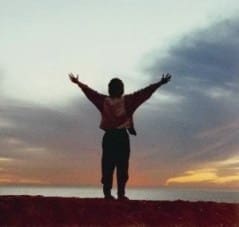 Many of us spend Lent in clutch mode, interspersed with bouts of guilt when we fall off the Lenten wagon.  Suddenly we remember what we gave up for Lent (barking at others, wringing our hands in worry, making a point until it becomes that "dead horse", etc.).  In our busyness we recall what we vowed to add to our usual measure (another prayer time, a session of lectio  or another Office). 
Do we ever make a Lenten practice of embracing the inexpressible delight of God's love?  What if we chose in Lent, or anytime for that matter, the goal of embracing God's love for us, a truth that we may well have neglected?
The Challenge of Accepting that We are Loved by God
God's love can be difficult to grasp.  Is it for you?  I struggle with the heart knowledge that I am loved by God.  Embracing this comes and goes depending upon how I judge my actions and thoughts at any given moment.
Upbringing and experiences as a child can impact our ability to know God's love. Many of us were raised by well-meaning parents, teachers, clergy, etc., who rewarded our good behavior with positive attention and love.  The learned pattern of "being good brings acceptance and love" was then transferred to our relationship with God – we must be "good" to be accepted and loved even by God.
As adults we may intellectually understand that God's love for us is not an "if – then" proposition.  But how do we move this truth from head to heart to really know God's love for us?  What spiritual practices thinking can help us toward the goal of knowing God's love for us on a deeper level?
Opening to God's Love Through Holy Scripture
Scripture gives us a corrective to what I will call, tongue-in-cheek, "The Good Girl/Boy Syndrome."
Jesus has promised to prepare a place for us so that we can always be with him (John 14:2).  He assured us with these words –  "As the Father has loved me, so I have loved you; abide in my love." (John 15:9)  In his letter to the Galatians Paul explains that by believing in Jesus Christ we are justified by faith and not by works of the law (Galatians 2:16).  As baptized Christians we are marked as Christ's own forever.  How awesome is all that?!!
I have found that Scripture read slowly with trust and openness to the truth can touch my heart.  God reaches me through the words of God's steadfastness and love.  Try it – Read the following slowly, knowing that they are God's words to YOU.
 But now thus says the Lord,
Do not fear, for I have redeemed you;
I have called you by name, you are mine.
When you pass through the waters, I will be with you;
and through the rivers, they shall not overwhelm you;
when you walk through fire you shall not be burned,
and the flame shall not consume you.
For I am the Lord your God,
the Holy One of Israel, your Savior.
Because you are precious in my sight,
and honored, and I love you,
Do not fear, for I am with you.
    Isaiah 43:1a, 2, 3, 4a, 5a
There are many, many passages like this that can draw our hearts to God who awaits us.  The Psalms are a wonderful resource for growing to know God's love.  Try Psalm 139, for example, and Psalm 23.
The Rule of St Benedict – A Path to the Inexpressible Delight of God's Love
I believe the entire Rule of St. Benedict is a path to the inexpressible delight of God's love.  Why?  The instruction given by St. Benedict for personal conduct, for healthy relationships, for compassionate leadership and for spiritual practices help to rub away that which separates us from God.  And what separates us from God?  Leaning into ourselves rather than leaning into God.
Selections from the Rule that Point Us to God's Love
Benedict reminds us that the God we are seeking to love is first seeking us.
 "What then dear sisters and brothers, is more delightful than this voice of the Lord calling to us?
See how the Lord in his love shows us the way of life. Prologue 19-20
I usually think of our love being expressed when I read the following passage.  What if we reframe this and deem it God's love bringing the delight to us?  I added in "God" to stress this point.
 But as we progress in this way of life and in faith, we shall run on the path of God's commandments,
our hearts overflowing with the inexpressible delight of [God's] love.  Prologue 49
God's Love Through Others
The superior of the monastery is another revelation of God's love in the Rule.  Benedict explains that the abbot or prioress is to hold the place of Christ in the monastery (RB 2.2).  All that the superior is to be or to do, then, is a reflection of Christ who has revealed God to us.  The superior is to be compassionate, to love the monastics (64.11), to let mercy triumph over judgment (64.10) and to strive to be loved rather than feared (64.15).   This is a reflection of God and God's love.  So too are other leaders in the monastery – the cellarer, the porter and deans.  Benedict asks each to convey God's love through kindness and respectful actions.
In our own lives we find the revelation of God's love through other people.  Who are the women and men who have helped you on your way—who have provided support, shelter, communion, friendship or even challenge?  How do they reveal the love of God to you?
God's Love Through Instruction
At the very beginning of the Rule Benedict asks us to listen to his instructions.  We are to give up our own will.  He asks us to pray as we begin a task for God to bring what we do to completion (God's perfection).  (Prologue 1, 3, 4)  As we turn to God in this way, we turn away from our self-focus.
In Chapter 4 – The Tools for Good Works, Benedict presents seventy-four "tools of the spiritual craft" designed to help us live with love and integrity.  "These tools foster harmony in relationships, integrity in personal life, health in physical life, and intentionality in the search for God."*
Here is a quick sampling.  Benedict says, "Listen!"
First of all, love the Lord God with your whole heart, your whole soul and all your strength, and love your neighbor as yourself.  RB 4.1,2 and Matt 22:37-39; Mark 12:30-31; Luke 10:27)
Your way of acting should be different from the world's way; the love of Christ must come before all else.  RB 4.20,21
If people curse you, do not curse them back but bless them instead.  RB 4.4.32
Guard your lips from harmful and deceptive speech.  RB 4.51
Listen readily to holy reading, and devote yourself often to prayer.  RB 4.55,56
Place your hope in God alone.  RB 4.41
Benedict's instructions channel our personal drives into the larger and more beautiful landscape of God's kingdom.  Here we find that inexpressible delight of God's love.
Why Embrace God's Love
This Lent and anytime of the year we can remember that we are loved by God.  This is a gift not only to ourselves, but to others.  With God's love in our heart, we can more fully be God's channel of love to others.
To reach the tool for this article – Click here. 

*Jane Tomaine. The Rule of Benedict: Christian Monastic Wisdom for Daily Living (Nashville, TN: Skylight Paths Publishing; 2017), 129.
 © March 2022 The Rev. Dr. Jane A. Tomaine