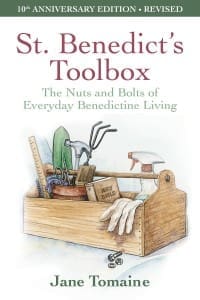 10th Anniversary Edition
St. Benedict's Toolbox: The Nuts and Bolts
of Everyday Benedictine Living
Although you may use tools while you're working in the yard or around the house, you won't find this Toolbox in a hardware store.  It is not a collection of hammers, screwdrivers and wrenches.  St. Benedict's Toolbox: The Nuts and Bolts of Everyday Benedictine Living is a book about how ideas from the sixth century can guide us to a Christ-centered life today.
St Benedict's Toolbox brings valuable ideas from this 6th century monastic rule into everyday 21st century life. Through this book you'll discover just how much of his Rule can increase the quality of your life by giving you "tools," in Benedict's words, "to open our eyes to the light that comes from God" (From the Prologue to the Rule, verse 9).
The Inspiration for the Book: The Rule of St. Benedict
In the sixth century a man named Benedict who was from Nursia in Italy designed what he termed "a little rule" in order to help the monastic community that he founded to better love God, self and each other by providing some guidelines on how to live a spiritual life in community. The rule covers topics like
prayer and worship,
forming healthy relationships,
how to use time and maintain a balanced life,
personal conduct,
leadership and authority,
hospitality, service and possessions.
The Rule itself fosters a way of life that is rooted and grounded in Christ. 
Benedict's Rule is a tool that we can use to find a center of stability and balance so needed in today's world.  It is designed "for ordinary people who live ordinary lives…It was written to provide a model of spiritual development for the average person who intends to live life beyond the superficial or the uncaring."1
What is the style of the book?
Each chapter of the book introduces and unpacks an aspect of the Rule using down-to-earth language. Then, at the end of the chapter, you'll find the "Toolbox."  In this toolbox you will find between three to eight "tools" help you apply what you learned to daily life. These tools are varied in their content and application.
Instruction on prayer and other spiritual discipline
Opportunities to reflect on your life in light of what you learned about the Rule
Suggestions for how to maintain healthy relationships in your life
Questions to help you reflect on address how you spend your time, how you view your work and how you might live a more Christ-centered life
Chapters also include "interludes" that offer a change of pace to the reading. These are either stories or reflections on the aspect of the Rule covered in that chapter.
As you read this book you'll learn to use Benedict's tools, and discover the power—and the timelessness—of this ancient way of life.
Br. William is using Hospitality Tool #1 – Bringing Hospitality to Life to help improve his relationships…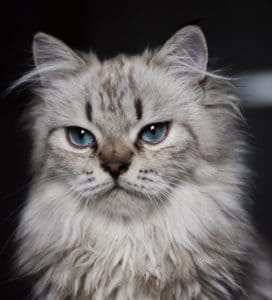 The 10th Anniversary Edition Offers More Benedictine Wisdom and Tools
If you read the original edition of St. Benedict's Toolbox published in 2005, this new edition offers even more.  The new revised and expanded edition has an additional 100 pages and is a slightly larger size to bring you more wisdom from St. Benedict.
Here are some of the new features:
Historical background to the Rule, covering the Desert Mothers and Fathers, Evagrius, and John Cassian.
New content in each chapter.
New tools in each chapter.
A special Benedictine practice for each chapter to help you begin to use the teaching of Benedict that's presented in that chapter as you read.
Summaries at the end of each chapter
A new chapter entitled "Community, Relationships and Being a Benedictine Presence."
A new guide for reading the Toolbox in a group setting.  I found this an exciting section to write because nine groups who read the book input to its creation.  There's also a section giving tips on facilitation.
An expanded "Suggested Reading" list and Bibliography.
An opening section offering words of encouragement about the value of Benedictine living from six people who follow the Rule of St. Benedict.
Want to see a bit of the book?  Click Here
Ways to Order the 10th Anniversary Edition of St. Benedict's Toolbox
–   Contact Church Publishing on line to order, by clicking here.  Churches and organizations may also order by phonin
–   Order from Amazon.com by clicking here.
Published July 2015 by Morehouse Publishing, a subsidiary of Church Publishing Incorporated. ISBN:  978-0-8192-3198-7     $27.95 list price.  Paperback6 x 9.   304 pages.
Also available in electronic form.
A Testimonial from the Back Cover
Any Christian hungry for deeper spiritual formation will find in St. Benedict's Toolbox an authentic guide for how to live out the spirit of St. Benedict's Rule for Monks. Filled with wise advice from a variety of monastic and other writers, the book is presented in an orderly and easily accessible format.  Jane Tomaine's approach, her sympathetic assessment of the human condition, and her appreciation of the role of community in spiritual growth all reflect faithfully the spirit of St. Benedict's Rule.
— Albert Holtz, OSB, Newark Abbey, author Pilgrim Road and Downtown Monks
What is The Rule of St. Benedict?
In the sixth century, when the Roman Empire was breaking apart and politics, cultural life, and even the Church were in disarray — tumultuous times not unlike our own — Benedict of Nursia designed what he termed "a little rule" that showed his monks the way to peace as they learned to prefer Christ above all things. The Rule of Benedict offers timeless and practical tools for living this Christ-centered life today.
St. Benedict's Toolbox provides a primer on how to use these tools in your own life. Each chapter examines one aspect of the Rule, from ways of praying to ways of being in relationships and community, and offers tools for reflection, prayer, journaling, and action.  You will discover the power and timeliness of this ancient way of life.
And, you are just in time to join a class on The Rule of St. Benedict!  This instruction is being led by the Novice Master of the Feline Cloister, Br Ricky, OSB-F (Order of St. Benedict-Feline).  I think you will enjoy learning about the Rule from Br Ricky as he gives an overview to the Cloister Novices.  To join, jump here.