Links to Helpful and Interesting Websites
The Web is a treasure-trove of information and inspiration on things Benedictine. Here's just a small list of links to help you get started.
Benedictine Houses and Organizations
The Order of St. Benedict

The main website of the Order of St. Benedict. There you will find the text of the Rule with daily readings and links to other websites. These include Benedictine convents and monasteries, academic institutions, Benedictine organizations and other organizations such as Anglican Benedictines and The Friends of Benedict.
The Friends of Benedict

This organization advances an understanding of the Benedictine roots of the Christian faith and, through its programs, supports individuals, parishes and other groups of people in translating Benedictine insights and values into their daily lives.
Companions of St. Luke ~ OSB
Benedictine Religious Life in the New Millenium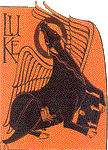 The Companions of St. Luke ~ OSB are a community whose pursuit of union with God is hallmarked by individual prayer life, communal prayer offices, work and ministry. The community is rooted in the ancient tradition of the Rule of St. Benedict. The Companions of St. Luke ~ OSB continue in this tradition by opening new possibilities for monastic life in the new millennium while remaining a school for the Lord's service.
Prayer and the Daily Office
The Mission of St. Clare

This Episcopal-based site leads you through Morning Prayer or Evening Prayer. When you pray on-line you will be able to sing hymns and other parts of the liturgy accompanied by an organ!
Universalis

This is Roman Catholic-based liturgical prayer. This site presents you with the psalms and readings for each hour of every day.
Liturgy of the Hours Apostolate

This site offers daily Liturgy of the hours Morning, Daytime, Evening and Night Prayer, plus the Office of Readings via Adobe Acrobat format.
Oremus

This website provides resources for prayer on the Internet. The site has resources for daily prayer and other worship and includes hymns and liturgical texts.
Inspiration
Gratefulness.org

This website provides a link to resources to help nurture gratitude. The site includes brief non-scriptural readings and music for each of the eight hours from pre-dawn to before bed.
The Geranium Farm

A creative website that supports a closer walk with God and offers daily messages by author Barbara Cawthorne Crafton and a place for prayer and more.