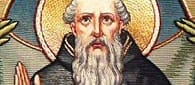 St. Benedict (c. 480-547) was born around the year 480 in the Umbrian province of Nursia in Italy after the fall of Rome in A.D. 410 and the official end of the Western empire in 476. It was a dangerous and turbulent time. In his biography of St. Benedict, Pope Gregory the Great (590-604) described Benedict's family as one of high station. He was sent to Rome but soon abandoned his studies, leaving the city that he felt was too corrupt. Several years later he went to an area near the town of Subiaco where he lived as a hermit in a hillside cave for three years. There he was "discovered" by others who recognized his holiness and wisdom. He founded the monastery of Subiaco, which still exists today, along with eleven other monasteries on this hillside.
Benedict left the area when a jealous local priest attempted to poison him through the gift of tainted blessed bread! Benedict then traveled to Monte Cassino in the imposing mountains of the central Italian Apennines where he formed a new community and remained there for the rest of his life. Benedict had a sister, Scholastica, who had established herself nearby with her own community of nuns. It was said that they met together once a year. Benedict died in 547. Forty years after his death the monastery was destroyed by the Lombards. Today the relics of St. Benedict may be found at the abbey of St Benoit-sur-Loire in France.
What did St. Benedict do?
St. Benedict is most known for the creation of a monastic rule. He wrote this rule for the monks of his own monastery at Monte Cassino, having no thought of establishing a monastic rule that would be adopted by others. Yet, within a century or two after his death in 547, Benedict had become the patriarch of Western monasticism and his Rule the most influential in the Western Church. By the high Middle Ages, most of the monasteries of the West followed his Rule, as do many to this day. Benedict would be astounded indeed to know that fifteen centuries later you and I would look to his Rule for guidance in our own lives.
If you'd like to see a brief description of the Rule, click here
Through his Rule Benedict reveals wisdom and understanding along with a very astute knowledge of human behavior. But most of all, the Rule reveals Benedict's love for his brothers, his love of Christ and his desire that his monks, and us by extension, follow Christ's way to eternal life.
"Let us open our eyes to the light that comes from God,
and our ears to the voice from heaven that every day calls out this charge:
If you hear his voice today, do not harden your hearts."
                                                                             Prologue 9 and Psalm 95:8
——————————————————————————–
All quotes from the Rule are from RB1980: The Rule of Benedict in English, edited by Timothy Fry, O.S.B., Collegeville, Minn., The Liturgical Press, 1982.
If you would like to order this version of the Rule, click here.