Purpose of the Tool:  To help discern the desire of your heart and take steps to bring this desire to life.
Background on the Tool:  Every day we make choices in what we do and say that are impacted by what we truly desire.  We are not always aware of what these desires are especially at turning points in our lives when important decisions need to be made.  It's is important that periodically we take time to reflect on what we deeply desire in our lives because this will help bring about a life rich with meaning and joy.  The beginning of a new year is an excellent time for this reflection, but it can be done any time.
The Tool:  In my article "Living the Desire of Your Heart" I gave three quotes from the Rule to guide reflection on discovering and living a deep desire that focus on Jesus' Great Commandment to love God and to love our neighbor as ourselves.  If you haven't read the article please do so then return to the Tool.  Click here to read the article.
Now, find some free time, maybe even ten minutes to start, and settle in a comfortable chair.  Then continue. You may wish to have paper and pen handy, or a computer for notes after this time of reflection.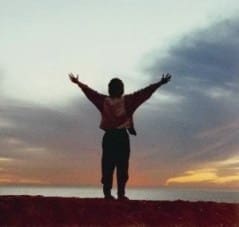 What brings you the greatest satisfaction in your life right now?  You may wish to think about your relationships, your spiritual life and other aspect of your life.
What's missing that you feel would bring meaning, joy, etc.?
Thinking about how you answered the first two questions, ponder what your deepest desire for your life could be right now?
What would your life look like if you were living this deep desire?  Picture this life.
With this picture in mind what is one small step that you could take to begin to live this desire?
Need some help in your reflection?    In the article I shared three ideas from the Rule that could shape the desire of the heart – to seek God first, to offer kind words and to ask for help.  These address the Great Commandment – love to God, love of neighbor and love of self (the latter is not self-love but care of ourselves).  Would one of these help you pinpoint the desire of your heart?
To see the article that goes with this Tool, please click here.