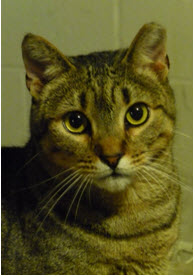 My heart breaks to share the news of Randy's passing last June, 2013.  His wit, cheeky observations of feline and human behavior in the cloister and his understanding of the Rule were much appreciated by so many of his readers.  He is dearly missed.  In honor and memory of him, I am keeping his corner on the website just as he wrote it.  May he, along with other departed animal friends, enjoy romping in the Paradise Cloister.
Hi!  My name is Randy, and I am one of Jane's cats. Jane shares things with me and the other cats. We find her offerings most satisfying…especially the crunchy cat treats.
Some time last year Jane allowed me to try writing a column for her newsletter, the Cyber Toolbox. You really should sign up for it if you haven't already. Anyway, the newsletter subscribers seem to like what I have to say about the Rule of Benedict from a feline perspective.
When the web site was re-designed it was decided that I'd have my very own page so I can share all my thoughts with you. The best thing about this page is that you can talk to me! Ask me questions or comment about my mewsings. I especially look forward to hearing from other furry or feathered folk. I firmly beleive the Rule is good for ALL of us!
Randy