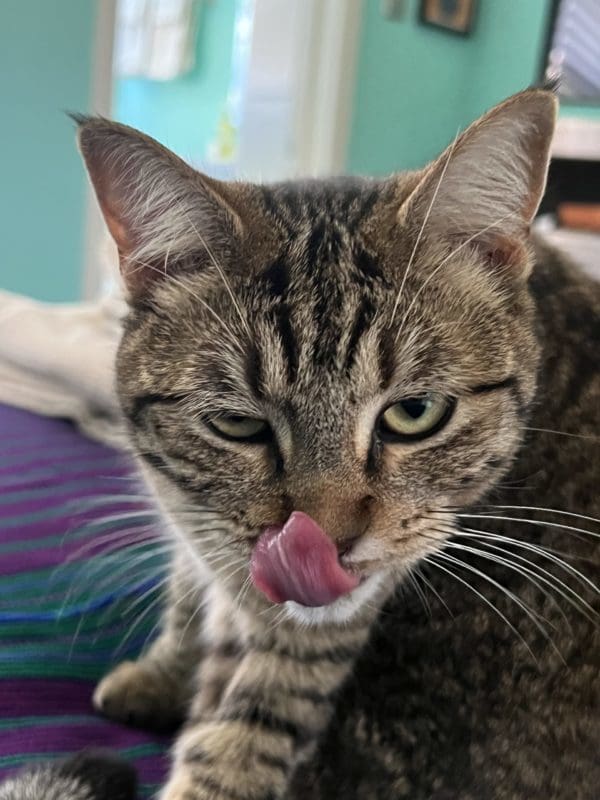 I'm a 1 ½ year-old female cat.   I would like to join the Feline Cloister because: I am already a bit of a Benedictine, though I need to review the ladder of humility.   I have practiced being with my human Mary during her prayers.
On our Zoom call Novice Master Br. Ricky asked me about my unusual name and how to pronounce it.  "Xochi" is pronounced "ZOE (like "toe", but with a "Z" sound)-chee."  It's a nahuatl/Aztec word that means "flower."  I love that I am a flower because I love being outside when my human is gardening and doing other manual labor.  I follow her around everywhere when she is outside.
I told Br. Ricky that think I will get along well with the other novices because I am friendly, personable, sociable, and funny.  Br. Ricky purred and mewed this from the Rule.
"Among themselves monastics show the pure love of sisters and brothers; to God, reverent love; to their prioress, abbot or abbess [Amma Jane], unfeigned and humble love."  RB 72.8-10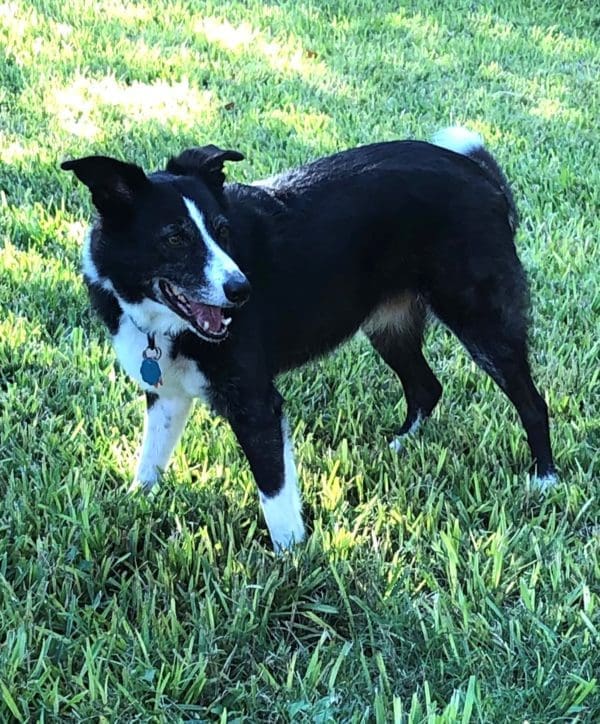 One of my favorite things to do is to tease Fiona, the border collie.  Br. Ricky's ears flattened when he heard me say this.  He quickly culled The Rule of St. Benedict and shared this:
"You must honor everyone (1 Pet 2:17), and never do to another what you do not want done to yourself" (Tob 4:16; Matt 7:12; Luke 6:31) RB 4.9
I mewed that I didn't mind being teased, to which Br. Ricky raised a challenging question: "I wonder what Fiona thinks about being teased?"  "Well," I mewed with a tiny hiss, "sometimes Fiona plays WAY too hard and this annoys ME."
As you can see, I'm clear in expressing what I like and don't like.  I love being picked up and carried around. I love to catch little mice and bring them to my humans alive and well. (Amma Jane, the vegetarian Abbess, adds, "I hope they are released alive and well!")  As a novice I wondered if I would be able to eat every two hours like I do now, watch life in the gardens and sleep under the oak tree.  Do I need to give things up to get closer to God?
Finally, what I think my human needs to learn is to slow down!  At age 73 she needs to adapt to a gentler rhythm.  Benedict is keen on moderation and balance in life.  I'm sure that I will find some helpful teachings to share with my human.
Verses from the Rule as suggested by Br. Ricky:
The whole of Chapter 7 – Humility.  Wow!  That's a big order and an even bigger challenge.  But I found a verse I like:
"[The faithful] are so confident in their expectation of reward from God that they continue joyfully and say, But in all this we overcome because of Christ who so greatly loved us" (Rom 8:37)  RB 7.39.
P.S  My human, Mary Earle, is an author who has wrtten two excellent books on The Rule of St. Benedict.  Both explore how Benedictine practice can help humans live with serious or chronic illness.  Please check these out in The Book Corner by putting your paw here and scrolling down the page.  My human also wrote an accessible introduction and commmentary on Julian of Norwich's Revelations of Divine Love.