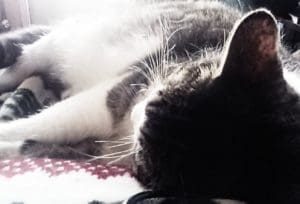 Just like my feline housemate Georgette, I would like to join the Feline Cloister because my human is a Benedictine Oblate and I want to do everything she does.  I can see that she tries very hard to live her Rule of Life and I admire her dedication.  I am a 9-year-old male cat and "Trouble" is my name, but I hope I'm not too much trouble!  Maybe following St. Benedict will smooth out any rough edges.  From what Br. Ricky, Novice Master, shared on our Zoom call, the Rule is all about smoothing rough edges so that we can be more open to God and to each other.
I mewed to Br. Ricky that I am very affectionate and am very protective of my human.  Br. Ricky purred and shared that care for one another is a very important Benedictine instruction.  In Chapter 35 – Kitchen Servers of the Week, The Rule of St. Benedict  explains a way to show care and love.
"The members should serve one another. Consequently, no members will be excused from kitchen service unless they are sick or engaged in some important business of the monastery, for such service increases reward and fosters love."  RB 35.1-2
"Does this mean that the servers should serve the food on time?" I asked in a hopeful mew.  "Why yes," Br. Ricky responded.  I made a mental note to share Chapter 35, verses 1 and 2 with my human.   It really causes me trouble when she doesn't feed me on time!
I do have one concern about becoming a novice.   Those things that I love to do – play with my catnip mouse, snuggle with my human, and climb on the furniture – may not be allowed when I am a novice.  Then, the flip side of this is that I really hope those things that annoy me won't be on the novice "Required List."  Maybe I won't have to ride in the car any more or be stuffed into that confining pet carrier.  I told Br. Ricky that these odious things make me hiss, holler, and grumble.  With a concerned look on his face and ears pinned to the back of his head, he took a breath and gently quoted the Rule.
"First and foremost, there must be no word or sign of the evil of grumbling, no manifestation of it for any reason at all.  If, however, anyone is caught grumbling, let them undergo more severe discipline."  RB 34.6-7
I reacted with a hiss to this verse.   Does that mean cat treats will be taken away?   Br. Ricky appeared not to notice my reaction. (To the reader – he did paw somwthing in a notebook, perhaps a follow-up for instruction to all noivces on the  dangers of grumbling.)  Not grumbling is a huge challenge for me and I think for others, feline and human.  It is a key teaching in the Rule.
Like my feline housemate, Georgette, I hope that as a novice I can help my human learn patience.  And maybe I can become more patient about when our meals are served.  I'd like that because when I am not patient, I only hurt myself.  I'm excited to become a novice!
My Favorite verse from the Rule:
"Clothed then with faith and the performance of good works, let us set out on this way, with the gospel for our guide, that we may deserve to see the Holy One who has called us to the eternal presence" (I Thess 2:12).     Prologue 21