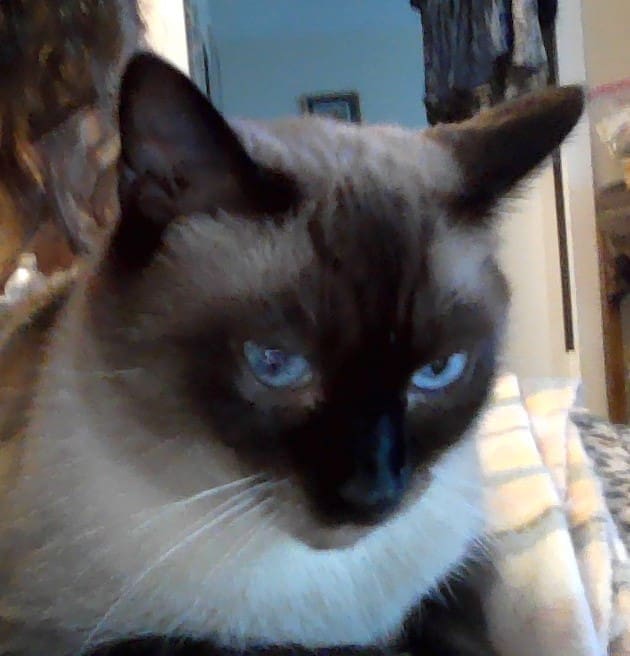 I would like to join the Feline Cloister because: I know there is much I can learn from other felines regarding prayer, meditation and appropriate behavior in the Benedictine way. I am a good companion to my human and know that I can be a good companion to the other novices.  On our first Zoom call Br. Ricky, our Novice Master, explained how important good relationships are and how Benedict stresses this in the Rule.
I told Br. Ricky about my traumatic past and explained that I get scared when I hear sirens.  He was very understanding and offered a nice quote from The Rule of St. Benedict to help me not be so afraid:
"Place your hope in God alone."  RB 4.41
My human has told me that I am intelligent and independent.  I am only 3 years old and am eager to learn, but wondered if anyone would listen to me.  Br. Ricky explained that the superior of the monastery is to listen carefully to even to the youngest feline because "the Spirit often reveals what is better to the younger (RB 3:3).  I like that!   The youngest, Br. Ricky clarified, is either in years or in time within the cloister.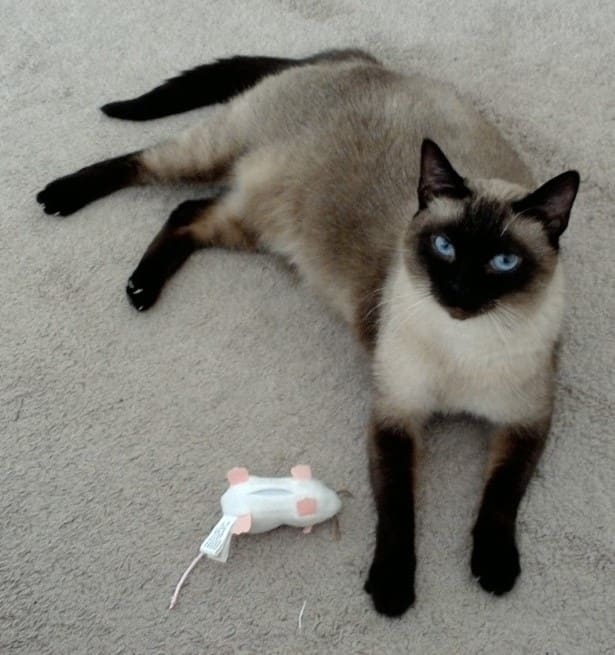 As a novice I'm hoping that I can still be a mouser at night   I am really good at this and have been able to bring as many as six mice, toy of course, to my human's bed at night.  Br. Ricky purred when he heard my generosity.  He commended me for sharing my toys with my human.  He explaned that in the cloister no one owns anything personally, but all things are shared in common.  "There is absolutely no private ownership of anything.  Listen to what St. Benedict says."  Br. Ricky quickly pawed his copy of The Rule of St. Benedict in Mew and read this.
"Above all, this evil practice [of private ownership] must be uprooted and removed from the monastery. We mean that without an order from the prioress or abbot or abbess [Amma Jane] no members may presume to give, receive or retain anything as their own, nothing at all–not a book, writing tablets or stylus–in short not a single item, [even a toy mouse – added by Br. Ricky.  This isn't in the Rule.]"  RB 33.1-2
I love looking out the window and laying in the sun.  Perhaps I can make this my meditation time as well.
What I think my human needs to learn is to be a little more patient with me, too, especially at 6 am when I want breakfast.  I don't like to be picked up.  She needs to learn that I will jump in her lap or on the bed or other furniture on my terms.  Truth is, I could be more patient, too, when she is late getting home from work or stops brushing me too soon when I want more.
A verse from the Rule for me to ponder as suggested by Br. Ricky:
"This, then, is the good zeal which members must foster with fervent love:
They should each try to be the first to show respect to the other (Rom 12:10), supporting with the greatest patience one another's weaknesses of body or behavior, and earnestly competing in obedience to one another.  RB 72.3-6