For Nothing Will Be Impossible With God
Place your hope in God alone.   Chapter 4 verse 41

This morning brought a surprise.  The website I use to access the scriptures on my IPhone (Yes. I've developed this "techno" practice – www.satucket.com/lectionary) announced that today we were celebrating the Annunciation, our lectionary having moved it out of Holy Week from the usual March 25th date.  With appreciation I again pondered the visit of Gabriel to Mary and her ready acceptance of the call:
"Here am I; servant of the Lord.  Be it to me according to your word."
I wonder if Benedict ever used the example of Mary as a model of obedience?  Although the Rule makes no mention of her, the early Church Fathers, cited with veneration by Benedict in Chapter 73, saw Mary as the "new Eve" who said "Yes" to God.  Without a doubt she followed with ready step the voice of authority that came to her. (RB 5.8)  Mark Scott offers this thought—"You could say that for Benedict every monk is the Mother of God, because the monk prefers nothing whatsoever to the love of Christ, and who is the one who does that best but Mary, Theotokos, the Mother of God?"[i]
I believe that her ready step of obedience (RB 5.8) to God's call was made possible by her already deep practice of faith and trust in God as well as by this assurance of the angel:
"The Lord is with you.
Do not be afraid.
…for nothing will be impossible with God."
 To this, Mary gives her open-hearted assent.
When in your life did that needed assurance from God come to you and how did it come?
A number of years ago following a particularly difficult time in my life I took a trip to France.  Feeling un-rooted and uncertain about the future, I was looking for a message from God for the rest of my life.  While in the beautiful hilltop town in Vezaley I ventured down a steep, rocky path to see the ruins of the 12th century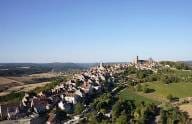 chapel.  Exhausted from the uneven jaunt down, I was rewarded with an amazing view of the valley below—green, expansive and flowing with fields of crops.  At the edge of the hill there was a large wooden Roman cross where a woman was painting both cross and view.  As I walked by her, still puffing from the arduous journey down the path, we exchanged smiles.
After nosing around the ruins for some time, I glanced at my watch and realized with a jab of panic that the bus was soon to leave Vezelay.  I hurried from the chapel anticipating with dread the steep, rocky climb back up to town.
On the way to the path I met the woman who had been painting, walking towards me with paint box and drawing paper in hand.  Not knowing if she spoke English but needing to voice my distaste over the pending hike, I said, "Oh boy.  I sure dread the climb back up to town."
"You can take the path the goes right from the chapel," she said in English with a French accent and gestured towards a break in some trees by the chapel.
"I'm afraid I don't know that way," I countered.
"Oh, it's easy," she explained reassuringly.  "Just follow the path.  It will lead to a road.  Then follow the road up the hill.  It will take you back to the main road in town."
 Skeptical, I glanced worriedly again at my watch.  "I don't know…I'm afraid I'll be late, get lost or something."
"It will be fine," she assured me.  "There's only one road and it follows along the curve of the hill back up to town.  It's a bit steep but it's paved and it will bring you in close to where the buses leave."
"Well," I hemmed and hawed waffling in my indecision.  "I should go the way I know.  I'm afraid I'll keep the others waiting."
 Then, with the greatest gentleness she looked at me and said, "Don't be afraid; God will guide you."
 I stared back at her.  Tah-dah!  THIS was message of the trip.
"Don't be afraid; God will guide you."
Over the years when I've been again afraid, over big things and little, these assuring words come back to me, most often through my best friend who says, "Jane, remember the French woman."  Oh, right…"Don't be afraid. God will guide you."  I have asked God to bless that French woman, my French angel, many times.
When have you received God's assurance?  What was the situation that was causing you to quake, to lose hope, to despair?  Recall how that assurance came.
God's grace pours onto us in many ways, through many different channels.  Looking back on our experiences we can discover The-Hand-Of-Love that carried us through and today rekindle our hope for the future.  We can place our hope in God alone (RB 4.41) and embrace these words… 
"The Lord is with you.
Do not be afraid.
…for nothing will be impossible with God."
To see the Tool for this article – "A Tool for Moving Towards Trust and Hope – click here.
©April 2013 The Rev. Dr. Jane A. Tomaine
---
[i] Mark Scott, O.S.B. At Home with Saint Benedict, p.268.