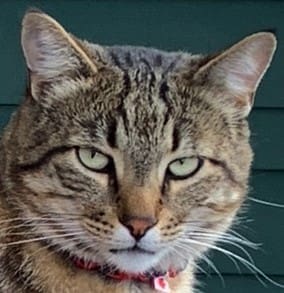 Greetings!  I am a 6 ½ year old half Main Coon tabby.  My human calls me "Humpie."  I would like to join the Feline Cloister because my human is a cleric, and I suspect I should get into the act.  On my Zoom call with him Br. Ricky, Novice Master, purred when I mewed this to him.  He asked "what getting into the act" might look like.
That questioned surprised me.  I wasn't sure what to mew as an answer.  This wise Novice Master came to my rescue.  He explained that the Rule is full of ways that felines can "get into the act."  Some of these are praying the Divine Office, having the Gospel for our guide (Prologue 21), doing what is best for others and not for ourselves (RB 72.7), and serving one another at meals. (RB 35.1-2)  I don't think that he noticed my ears flattened at the last two.
I shared that we felines actually worship Ra, the Egyptian Sun Deity, who took the form of a cat to fight chaos.  Br. Ricky's eyes widened.  "However," I quickly continued, "I'm convinced that prayers to Ra, Jesus, God, Buddha, Allah, etc., all get to the same inbox. I don't despise water so if Baptism is necessary, I'm still in."
Br. Ricky explained that baptism by water is not necessary as most felines cannot tolerate water.  What is needed, he mewed with great feeling, is a baptism of the heart where the feline welcomes the pet of the Holy Spirit.  He explained that in the Feline Cloister we pray to God, to Jesus and to the Holy Spirit, some felines choosing one or all three.  We all agree that there are many paths to God as you have said.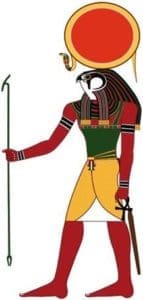 Ra, the Eygptian Sun Deity
I shared what I believed to be my outstanding personality characteristics.  I am quite vocal and express my opinions about EVERYTHING. Br. Ricky gave me a concerned look.  He mewed that in the Rule Benedict asks for restraint of speech.  With gravity, yet gentleness, I guess because I'm a "newbie," Br. Ricky quoted from Chapter 6 – Restraint of Speech [and from Excessive Mewing].
"Indeed, so important is silence that permission to speak should seldom be granted even to mature disciples, no matter how good or holy or constructive their talk, because it is written: In a flood of words you will not avoid sin" (Prov 10:19); and elsewhere, The tongue holds the key to life and death (Prov 18:21). Speaking and teaching are the teacher's task; the disciple is to be silent and listen."  RB 6. 3-6
My ears flattened at the thought of not sharing all my opinions.   But I am not keen on sinning either.  The always observant Novice Master gave me an encouraging purr and explained that in the Cloister Amma Jane gathers the whole community together before making a big decision.  She needs to have members express their suggestions, "with all humility" of course.   (RB 3.4)  Even I would be welcome to share my opinion.
"The reason why we have said all should be called for counsel is that the Spirit often reveals what is better to the younger," either in age or in tenure at the Cloister.  RB 3.3
That made me purr.  And I felt better.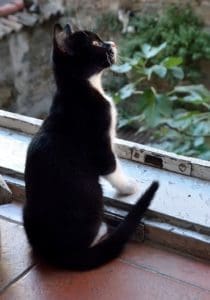 Illus.  Sam watching "Cat TV"
As a novice and prospective member of the Cloister one thing I am concerned about being able to continue some of my favorite activities – napping, surveying my vast outdoor domain, eating, sleeping, wanting belly scratches, napping, microfiber blankets, napping, eating, and watching cat TV, i.e., keeping an eye on what's going on outside through the window.
Benedict wants us to have a balanced life, Br. Ricky mewed.  However, noting that eating and napping were mentioned several times, he cautioned me that I will need to change my priorities a tad.
"Refrain from too much eating or sleeping, and from laziness (Rom 12:11)…Do not pamper yourself, but love fasting."  in RB 4.36-38, 12
I must have looked a little shocked for he followed this up with,
"What is not possible to us by nature, let us ask the Lord to supply by the help of his grace."  Prologue 41
Each morning I go out and survey my vast domain before returning for breakfast. I LOVE venison cat food but it must be whirred in a coffee grinder with water until it's a smooth gravy.  Br. Ricky thought that this is too much work for my human and was overindulgent on my part.  He mewed from the Rule again.
"…nothing is so inconsistent with the life of any Christian as overindulgence. Our God says: Take care that your hearts are not weighted down with overindulgence" (Luke 21:34).  RB 39.7-9
This puzzled me.  Aren't we felines TO be indulged?
On thing I'm going to look for in the Rule is a prohibition against walking a feline on a leash.  I don't cooperate when my human tries this.   I "drag."   I did notice a chapter in the Rule on "The Impossible Task." (RB 68)  If anything is impossible it's walking a feline on a leash!  And for good reason.  WE ARE NOT CANINES!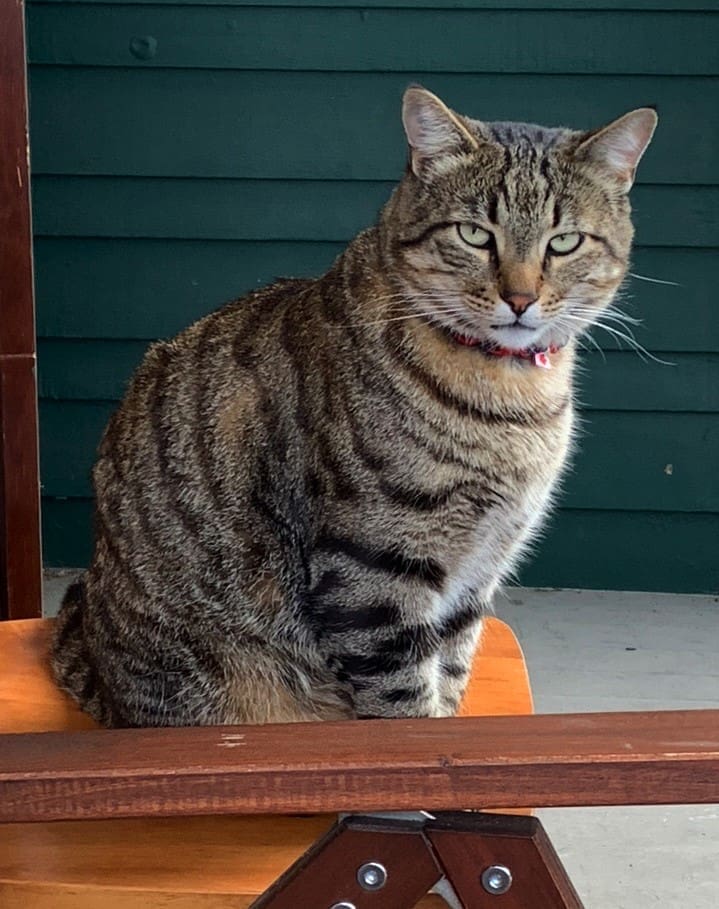 Novice Humphrey highly skeptical of
the prohibition against overindulgence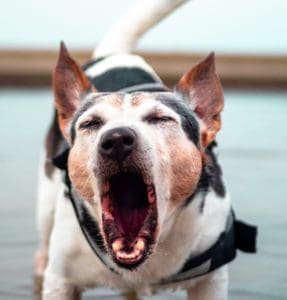 Yappy dog Mortimer about to hear the Benedictine injunction against barking
We discussed my likes and dislikes.  Not much annoys me. I have a pretty even keel.  Br. Ricky purred at this.   I DO like larger dogs, but little yappy dogs make me scowl and hiss. (That's the only time I ever hiss.)  Br. Ricky nodded in total agreement, observing that Benedict preferred silence.  (See Chapter 6 – Restraint of Speech [or Barking]).
The next time I encounter one of those yappy little dogs I will hiss as loud as I can…
"INDEED, SO IMPORTANT IS SILENCE THAT PERMISSION TO SPEAK
SHOULD SELDOM BE GRANTED"!!!  RB 6.3a
I told Br. Ricky that my human needs to learn to relax more, to take more naps.  Br. Ricky looked pleased and again mewed the importatnce of balance in one's life.  But, I continued gravely,  my human also needs to and pay more attention to me. I realize I get a lot, but I'm a cat so it's all about ME!
Br. Ricky's fur stands up at my last words.  He paws a note to discuss this with Novice Humphrey.
"Do not gratify the promptings of the flesh (Gal 5:16); hate the urgings of self-will."  RB 4.60-61
And…
"The second step of humility is that we love not our own will nor take pleasure in the satisfaction of our desires; rather we shall imitate by our actions that saying of Christ's: I have come not to do my own will, but the will of the One who sent me (John 6:38).
My favorite verses from the Rule:
"Therefore we intend to establish a school for God's service. In drawing up its regulations, we hope to set down nothing harsh, nothing burdensome."  Prologue 45-46
I know there will be some challenges being a novice, but I want to do my best.  Br. Ricky gave a big purr when I mewed this!