Moments Full of Glory
What is more delightful than this voice of the Holy One calling to us?
See how God's love shows us the way of life.
                                                                                                            Prologue 1-20[i]
 In her book The Cup of Our Life Joyce Rupp tells the story of author Jean Houston who, as a youth, went to hear a presentation by Helen Keller. After Keller, who is both blind and deaf, finished speaking, Houston got up and presented her face to Miss Keller.  She described her experience this way:  "She read my whole face and I blurted out:  'Miss Keller, why are you so happy?' and she laughed and laughed, saying: 'My child, it is because I live each day as if it were my last, and life, with all its moments, is so full of glory.'"[ii] How stunning is THAT!  Here is a woman who can nether see nor hear, yet she lives with a profound appreciation for life and with deep attention to the present moment, seeing the supreme grace held within those moments.
The truth is, I think, we so easily are blind to these moments of life so "full of glory."  Perhaps we think that we'll look for them later before bed when we've done all our work, or tomorrow when we have more time or next summer when we go on vacation.  In The Way of Passion: A celebration of Rumi Andrew Harvey writes that if we were really looking at this world, we would be moved a hundred times a day by the flowers at the side of the road, by the people we meet, and by all that brings us messages of our own goodness and the goodness of all things.  I don't know about you, but I sure would like to live that way, noticing and embracing the goodness around me.
Benedict writes of this path to living deeply and fully in the chapter on "The Tools for Good Works" saying,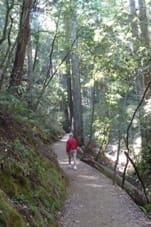 "Day by day remind yourself that you are going to die.  Hour by hour keep careful watch over all you do." 4.47-48  This is not a call to a morbid attitude towards life but a reminder to both create and embrace what is good and holy, to make choices that are life-giving in who we are and in what we do.  It's an urgent task.  "Run while you have the light of life," Benedict calls out, "that the darkness of death may not overtake you."  Prologue 13
To live fully in God's glory here and now doesn't require more time in the day or traveling somewhere else.  Benedict declares that "the divine presence is everywhere."  19.1   No matter where we look, who we are with or what we are doing, the mystery of God-Ever-Present is there.  We just need to "Open our eyes to the light that comes from God." Prologue 9
Take a moment to think about this: What if today was to be your last day on this good earth?  How might you look, listen, touch, smell, taste?  What would be different?  Would you and I not be 1,000 times more alert, more observant, more caring, more open?
Rupp offers us a way to open our eyes to the glory saturating all of life, a way we can live today and be truly present to it and in it.  The way is through thankfulness and gratitude.  She explains that when she finds her thankfulness asleep she uses a special practice that helps reawaken her gratitude.  She takes one of her five external senses each day and is attentive to it.  She explains:
"One day I notice all the sounds that I hear; another day I pay close attention to everything I see, etc.  Doing this helps me to move out of my tired approach to life.  I restore my alertness to my daily gifts and begin again to see the universe as one vast blessing."[iii]
Sounds like a wonderful idea to me!  It's not that we are ungrateful; we just get caught up in the rush of life and/or can just take everything for granted.  Each of our senses can remind us that God's gifts are everywhere and call us back to the present moment that if "full of glory."
So look, sniff, listen, touch and taste…and be grateful!  Check out the tool for this issue.  Let your sense help you be present to the moments full of glory!
Jane
To see the Tool for this article – A Tool for Awakening Gratitude, click here.  
© October 2012 The Rev. Dr. Jane A. Tomaine
[i] RB quote is taken from the translation found in The Rule of Benedict – A Spirituality for the 21st Century by Joan Chittister, O.S.B.  The remaining quotes are from RB1980: The Rule of St. Benedict in English edited by Timothy Fry, O.S.B.
[ii] Joyce Rupp, The Cup of Our Life,145.