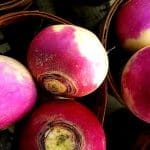 Looking for a delicious, natural root vegetable side dish that is easy, too?  Try this recipe.
The Ingredients    Note:  Any of these quantities can be adjusted
Turnips – These vary so much in size. I'll say 4-5 smallish ones.  Adjust number for larger turnips.  Small turnips are sweeter than larger ones.
Onion – softball size
One or two apples – Any type you have on hand, diced into a size similar to the turnip dice
Olive oil
Here's What To Do
Preheat your to 425 degrees.
Prepare the turnips
Peel the turnips and chop into ½" dice.  If you want the dice bigger, that's okay, too.
Toss the turnips in a bowl with a small amount of olive oil.
Line a cookie sheet with parchment paper or foil.
Spread the turnips in a single layer on the cookie sheet.
Roast the turnips in the oven using the convection feature if you have this.  Roast for 15 minutes and then check the turnips, roasting them further until they are tender and even browned a bit.  The total length of time depends on the dices size of the turnips but 30 minutes is a good guess.
Salt the turnips – optional
Work on the sauté while the turnips are roasting
Chop onions into a fine dice
Sauté onion in the olive oil until it is translucent and soft
While the onion is sizzling, chop the apples into a dice similar to your turnip dice.
Add the apples and continue sautéing until the apples are somewhat soft but not mushy.
Combine
Add the roasted turnips to the sautéed onions and apples and stir to combine.  Make sure it is all nice and hot before serving.  Take care not to overcook in this step.
Salt to taste.
Presto – a yummy side dish
A Bit About the Turnip
Turnips were a well-established crop in Roman times.  Pliny the Elder (AD 23 – AD 79) considered the turnip one of the most important vegetables of his day, rating it "directly after cereals or at all events after the bean, since its utility surpasses that of any other plant".  (snatched from Wikipedia)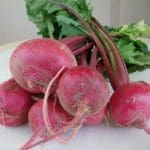 Therefore, it may be safe to name the lowly turnip a Benedictine vegetable.  Surely the turnip was grown in the monastery garden and enjoyed by Benedict!
Turnips are not related to potatoes.  They are part of the cruciferous family.  Like family members broccoli, Brussels sprouts, arugula and kale, turnips provide a high amount of nutrients for a low amount of calories – 36 calories for a medium sized 'nip. They are very good source of anti-oxidants, minerals, vitamins and dietary fiber. AND, they are very tasty.
If your turnips came with the greens, sauté up some garlic, coarsely chop the greens and add them to the sauté.  Delicious.