Mexican food is a favorite in our household, with the exception of Ricky, Charlotte and Target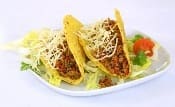 who prefer Friskie's Mixed Grill.  Here's my recipe for Mexican Vegetarian Tacos.  Yum!
The Ingredients             Note:  Any of these quantities can be adjust to taste and availability
Onion – lots of it
Garlic – 4 cloves
Green pepper – 1
Zucchini – 2 or 3 small   (Increase if you do not wish to use the meat substitute)
¼ package frozen sweet corn or, better yet, an equivalent in fresh corn
1 or 2 15 oz cans of tomato sauce
Quorn Meatless and Soy-Free Grounds – 1 ½ packages (18 ounces)
Cumin   1 ½ tsp.
Chili Powder   1-2 tsp to taste
Coriander  ½ tsp (I think…)
A good vegetable oil
A Word About Quorn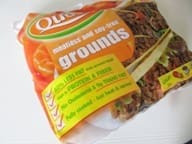 The main ingredient in Quorn™ is mycoprotein, a high quality meat-free protein, which is naturally low in fat and saturated fat.  We use it in a number of different forms and really like it.  Quorn is available in major grocery stores and health food stores. For information about it, click here
Here's What To Do
Chop onion and garlic and sauté in oil until onion is translucent and soft
While these are sizzling away, brown the grounds in another pan with some oil
Chop the green pepper and zucchinis and add to the sauté.
Also add the seasonings, adjusting these to your taste
Add the corn and cook briefly
After things have sautéed add the tomato sauce; one can first; the second if needed.
Add the sautéed Quorn
Add salt and pepper to taste
Cover and let simmer for fifteen minutes or so.
To assemble the tacos you'll need things like …
Taco shells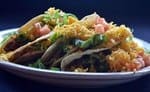 Taco sauce.  We use different organic brands here.
Chopped tomato
Olives.  I don't like them but you may!
Shredded cheese (like cheddar, jack or a Mexican blend),
Lettuce.
Heated re-fried beans, available vegetarian style.
(We use Amy's Organic Light in Sodium Vegetarian
Refried Beans.)
Now, enjoy a delicious and healthy meal!
"The monastics should serve one another.
Consequently, no one will be excused from kitchen service
unless he or she is sick or engaged in some important business of the monastery
(such as shopping for the ingredients to make this taco recipe),
for such service increases reward and fosters love."  RB 35.1-2