The recipes offered here are my own.
I always start by cutting up onion and garlic, my two staple ingredients.  What is to follow is a mystery – I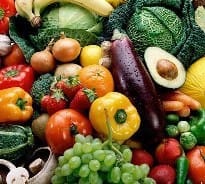 never know exactly what I'm going to make.  It's a metaphor for life, I think, taking one step—chop garlic and onions—in  faith that what is to happen next will be made clear.
The recipe begins to take on shape in my next step which is to look in the refrigerator and peruse the available vegetables.  Which ones are just begging to hop into my dish?  Also making an appearance in my recipes are various and sundry "Faux meats," i.e., meat substitutes for ground beef, chicken, sausage, bacon, etc.  There are many delicious meat substitutes available today.  You'll find links to information about these in the recipes.  Some have more salt than others so you may want to keep an eye on what you choose.  (Meat-eaters may substitute a meat or fowl of their choosing in place of the faux meat in my recipes.)
Learn about St. Benedict's instructions on food.
Inspired to try a recipe?  Please click right here.