Two Kinds of Cooked Food
Benedictine Recipes for Healthy Living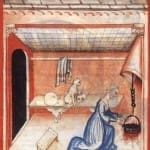 "It is enough, we believe, to provide all tables with two kinds of                                   cooked food…"                                                                                                                                                    RB 39.1b
Welcome to my Benedictine Recipe page!  I'm glad that you are curious about what's here and encourage you to browse through the recipes as more are added.   
I encourage healthy eating as part of the balanced life encouraged by Benedict.  Cooking is an act of love especially when prepared thoughtfully.  Benedictine recognizes the importance of this holy service and instructs that everyone needs to do kitchen service.  Preparation of meals is also an opportunity to practice being in the present moment.   Danger lurks when we think of tomorrow's worries or today's tasks yet to do while chopping a pepper—knives tend to gravitate to fingers when minds are not on the task!  More important, however, is that when we are in the present moment it is there that God can reach us even if we are unaware of that Beloved Presence.  And, when we pause now and then to consider the wonder of the food that God has created for us and for other creatures on this earth, we will cook with deep gratitude.  Under layers of protective covering lay a garlic that can delight the taste buds; tiny filaments of saffron can infuse a dish with exotic taste, and the strong outer skin of an acorn squash protects delicious orange flesh that matches superbly with raisins, apples and maple syrup.  Yum!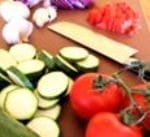 So grab your chopping knife, pan and wooden spoon and have fun!
Learn about Benedict's Instructions on food.