This is a wonderful and easy recipe that I make in the summer when we can buy organic Asian Eggplants at the local market from Cherry Grove Organic Farm in Princeton, NJ.  Asian Eggplants are those skinny eggplants shown here.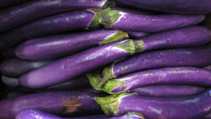 The Ingredients      Note:  Any of these quantities can be adjusted

Onion – softball size if you have one, chopped
Garlic – 4 cloves, chopped
Asian Eggplants – I usually make this with six or seven medium-sized about the width of a quarter, cut into 1/8 inch coins
Vegetable broth
A good marinara pasta sauce.  I use either homemade or a good low-salt, no sugar variety.
A sprinkle of oregano
Olive oil
A pasta such as penne or spirals, but anything will work
Here's What To Do
– Unless you are making this in advance of the meal, put a pot of water on the stove and heat for the pasta.
– Chop onion and garlic and sauté both in oil until onion is translucent and soft
– While the onions are sizzling away, chop the Asian eggplants into "coins" about 1/8 to ¼  inch thick
– When the onions have softened add the eggplant coins
– Sauté the mixture until the eggplant is soft, stirring to prevent sticking and adding vegetable broth when needed. Using vegee broth will cut down on the amount of oil you need.
– When the eggplant has softened, add a dash of oregano
– Add the pasta sauce to reach the proportion of eggplant to sauce that pleases you
– Add salt and pepper to taste
– Cover and let simmer on low heat for fifteen minutes or more until the eggplant is really soft.
When your pasta water is boiling, add the pasta.  When finished, either combine the drained pasta with the eggplant mixture or keep the pasta and sauce separate, serving individually.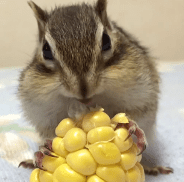 I have served this meal with Jersey sweet corn.  Yum!!
"The monastery should, if possible, be so constructed that
within it all necessities…are contained.
Then there will be no need for the member to roam outside,
because this is not at all good for their souls"
[unless, of course, Asian eggplants are needed].
(RB 66.6-7 plus editorial comment)