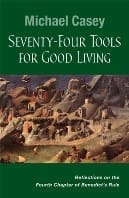 Are you looking for a good Benedictine read to start the new year?  Look no further than Michael Casey's book Seventy-Four Tools for Good Living.  This wise and readable Cistercian author and monk is offering us a tool to unpack the Tools for Good Works, Chapter 4 in the Rule. This book is not to be read quickly but slowly and thoughtfully.  As Fr. Casey explains, the book is not a commentary on the Tools but a "book of reflections" that will help all of us reflect on how the Tools can be for our own good works.
Fr. Casey draws us into the world of Benedict through his own experience and in varying writings of others such as Aelred of Rievaulx, John Cassian and Thomas Merton to name just a few.  For example, in Casey's discussion of RB 4. 34 – "Not to be proud," he shares Aelred's five stages that will cement pride in one's life: vanity, ambition, boasting, contempt, and self-love.  Even a small amount of pride can estrange us from God and so we must, Casey says, "develop a degree of caution about going further down this path on which perhaps we have taken a few unthinking steps."  Reading this section reminded me of the importance of self-awareness.   Fr. Casey also gives us his own translation of RB 4 which can be read alongside others contemporary translations.
While the book most certainly can be read alone, to read this thought-filled book with others who can share their responses to the reading would be most valuable.
Details about the book:
Seventy-Four Tools for Good Living: Reflections on the Fourth Chapter of Benedict's Rule by Michael Casey, OCSO.  Collegeville: Liturgical Press, 2014.
To order from Amazon.com, click here.
About Michael Casey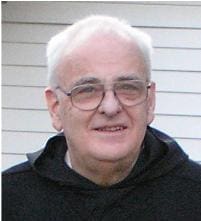 Michael Casey, OCSO, is a monk of Tarrawarra Abbey in Australia.  He has written many interesting and helpful books such as The Road to Eternal Life: Reflections on the Prologue of Benedict's Rule, A Guide to Living in the Truth: St. Benedict's Teaching on Humility, and Strangers to the City: Reflections on the Beliefs and Values of the Rule of St. Benedict.