Have you ever imagined that the Rule of St. Benedict was penned for you; that the Rule is your personal
guide to life in Christ and for Christ?
When I encounter the word "brother or sister" in the Rule of St. Benedict I like to mentally substitute a person's name or a group of people that is closer to home for me.  I'll use "family," "parishioners," "friends," "co-workers" or even a specific person's name.  I use my own name or "I".  Somehow this personalizing makes it easier to bring Benedict's wisdom into my own life, to make his wisdom my own.  Here's an example about the cellarer of the monastery altered to illustrate this practice.  My changes are in brackets.
[I] should not annoy [my family, my friends, my co-workers, Robert].  If [my spouse/friend/co-worker/community member/Robert] happens to make an unreasonable demand of me, I should not reject [him or her] with disdain and cause [the person distress], but reasonably and humbly deny the improper request…Above all [I] need to be humble.  If [I am unable to do or provide something asked of me], [I] will offer a kind word in reply. For it is written: A kind word is better than the best gift (Sir18:17 and RB 31.6-7, 13-14).
When we bring the Rule personally into our own lives we are taking a step towards fulfilling what I see as the key teaching in the Rule of St. Benedict – to prefer nothing whatever to Christ (RB 72.11).   Preferring Christ comes from the writings of Cyprian, the third century bishop in North Africa, who followed the statement with these words: "for he has preferred nothing to us."[i]  What a stunning truth—that Jesus has preferred nothing, that's nothing, to each of us, unworthy though we are.
What we prefer influences what we choose in a big way.  If I prefer chocolate, which I do, I certainly would not choose fruit for dessert!  If you prefer being with your family or friends on weekends you will most definitely choose to make the time to do this.  So when we prefer Christ, we first consider his point of view in molding who we are and in how we spend our time.  Second, we try to follow his example in all we do, especially when we are faced with difficult situations or when compassion is needed.  He is our touchstone and guide.  Third, we take the time each day to nurture our relationship with Jesus Christ for preferring Christ above all has a deep spiritual component that calls for constant communication.
The Rule of St. Benedict is a guide for preferring Christ, giving us concrete ways to translate this choice into everyday practice.  Listen to part of Chapter 72 – The Good Zeal of Monks, personalized.
"This then is the good zeal which I must foster with fervent love: "I must try to be the first to show respect to the other (Rom 12:10), supporting with the greatest patience any weaknesses of body or behavior in the other person, earnestly competing in my obedience to the other person.  I am not to pursue what I judge better for myself, but instead, what I judge better for someone else.  To my family and friends and even those with whom I struggle I am to show the pure love of Christ in community; to God, loving reverence and to my spouse, unfeigned and humble love.  Let [me] prefer nothing whatever to Christ, and may he bring us all together to everlasting life.
RB 72.3-12 modified
When we prefer Christ, bottom line we choose him over another—his way over other ways, his self-giving love over a love meted out on merit or convenience, his expansive and compassionate priorities over our often limited ones.  These choices, over time, mold us more and more into his likeness.  This is why I think it is a good idea to read the Rule as a personal statement.  Benedict shows us in the Rule how to prefer Christ and what this looks like in real life.
When we prefer Christ we do anti-world things like loving one another for Christ's sake.  Benedict writes, "Your way of acting should be different from the world's way; the love of Christ must come before all else."  RB 4.20-21.  We are patient with each other and with each other's weaknesses in body or behavior.  We show the pure love of Christ in our kind words and gentle response to another person's frustration or impatience.   We give consideration to the needs of the other person.  As Joan Chittister says, "Benedictine spirituality is about caring for the people you live with and loving the people you don't and loving God more than yourself."[ii]
Perhaps preferring nothing but Christ is being Christ in our daily lives just as the abbot or prioress is Christ to their community (RB 2.2).  We strive to do this as best as we can each day in all the many places and situations that we encounter.  The desire to prefer Christ and the intentional practice of preferring Christ will draw us closer to him.  A worthy goal for us all.
"Let me prefer nothing whatever to Christ."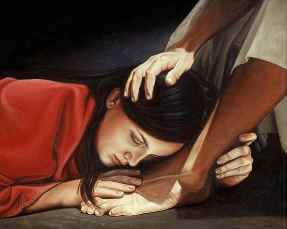 Mary Anoints Jesus' Feet
To see the tool for this article, click right here.
© June 2014 The Rev. Dr. Jane A. Tomaine
Photo directly above is from www.bible-people.info.