Emily was God's gift to her community. She had a thunderous purr, a sweetly demanding disposition, and a contemplative nature. Emily, like her namesake Emily Dickinson, selected her own society.
Strikingly beautiful because of her pure white fur, which she kept immaculately groomed at all times, this novice regularly sat on the lap of her human companion during Zoom Lauds and Vespers. She particularly enjoyed playing "change the bed" and came willingly to the whistle of her theme song to sleep nightly on her human's chest.
My beloved companion for almost 15 years, Emily's gentleness, joy and idiosyncrasies will always live in memory.
Memories shared by Terry
Memphis, TN 
If you would like to learn more about dear Emily, click here.
Emily contemplating going to the vet
to get her nails clipped, a directive
that is not in the Rule.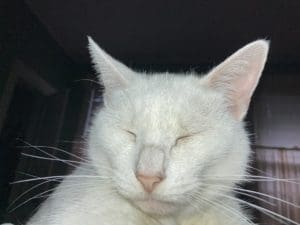 Emily's Favorite Verses from the Rule:
"But as we progress in this way of life and in faith, we shall run on the path of God's commandments, our hearts overflowing with the inexpressible delight of love." Prologue 49
"Let them prefer nothing whatever to Christ, and may he bring us all together to everlasting life."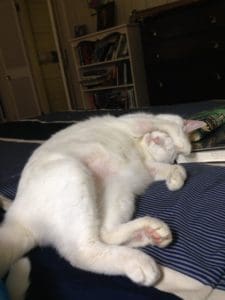 Beloved Companion Emily – now in The Paradise Cloister
sharing dramatic poses with feline friends
To give love is the greatest thing about life. It's truly living, and it is everlasting!
Emily Dickinson