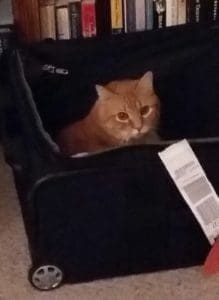 Amber back home from a fun vacation
Amber was the happiest, most outgoing kitty!  She embodied hospitality and welcoming the stranger – she was truly the "Porter at the Door," even as she got older and – a little! – slower. 
With my other cat Leesi, definitely the Elder Member of the Feline community, Amber was little kitty mischief, teasing and chasing.  But Amber was never destructive or naughty.
Amber loved being "up," whatever that entailed (as you can see by photo!)  She was an amazing jumper.
While I had Amber from about 6 months old, Leesi came to me at about aged 6 years, having been moved from home to home.  She was fearful and suspicious of strangers, but gradually relaxed and became a loving member of the immediate household – though far more reserved than Amber.  Leesi entered the Paradise Cloister in 2013.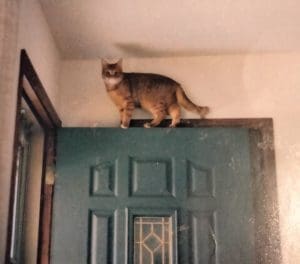 Amber – A feline Flying Wallenda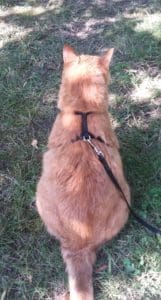 Always loving and affectionate, Amber loved to be held and petted.  I often read morning prayers and The Rule of St. Benedict to her, as she sat on my lap.
She loved to go outside and was cooperative about the harness and leash I insisted upon!
Both Leesi and Amber are sorely missed.
Memories shared by Cheri,
Excelsior, MN
Amber's and Leesi's Favorite Verses from the Rule:
"Let us consider, then, how we ought to behave in the presence of God and God's angels, and let us stand to sing the psalms in such a way that our minds are in harmony with our voices."  RB 19.6-7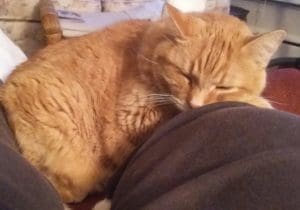 Loving Companion Amber now naps in The Paradise Cloister