Purpose of the Tool:  To develop a practice that will help us draw closer to God by recollecting and pointing to God in all we do and in who we are.
Background on the Tool:  In my article "Living to the Glory of God" I encourage us to recognize our innate greed in so many areas of our lives that keep the focus on ourselves.  Instead, Benedict asks us to keep God before us in all we do.  If you would like to read the article (Sure hope you do!) and then return to this Tool, please click here.
The Tool:  Start by setting an intention to let all you do reflect the glory of God.  Ask for God's help in this, acknowledging that God is with you and trusting in this always.
In the Prologue to the Rule Benedict encourages us to pray before we begin any good work so that God can bring what we do to God's perfect completion (Prol 4).   Pray that all you do and who you are as you do this work, have this conversation, complete this household task, as you help this person, be done to the glory of God, so that God is glorified in and through you.  I often say, "God, may I have this conversation for you and through you."  Or "I cook this meal for you, dear Christ…(please help me not burn the onions)."  At the beginning of the day I say (I try remember this), "God, may all my thoughts and all I do today, glorify you."
Last but certainly not the least, like the 18th century composer Johann Sebastian Bach wrote in his composition manuscripts, say this on your lips and write this on your heart:
Soli Deo Gloria – To God Alone the Glory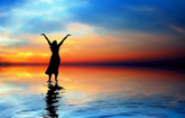 Read the article paired with this Tool – "Living to the Glory of God"
© February 2014 The Rev. Dr. Jane A. Tomaine