Wisdom and Inspiration for the Spiritual Journey
Welcome to The Book Corner!!
Here you'll find write-ups on books which I have found helpful, interesting, fun, meaningful and/or ALL of these.  You'll discover books about the Rule and Benedictine Spirituality, of course, but also other books as well.
Books are treasures and are some of my most inspirational teachers and hope you find this as well.  Books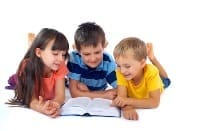 also draw us together as we read and share thoughts.  Books enable us to partake of the wisdom of those who lived long, long before us.  What a gift books and reading are!!  Praise God!
This page is still under development so, as time marches on, more reviews will appear.  I will be adding in the many books that I have recommended and written about in my on-line newsletter, The Cyber Toolbox, which is in its fifth year of publication.
I hope you find here a new treasure or renew your acquaintance with some dear, old friends.
Blessings in your reading!
Picture Credits:  www.thenextweb.com and www.socialmedia.com