Do you and members of your church or group struggle with the pressures and challenges of daily life in the 21st century?
Is your church seeking ways to nurture faith so that ministries gain new energy and depth?
Are you looking for a way to help people remain rooted and grounded in Christ and in the scriptures?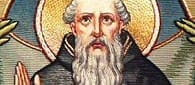 The sixth century Rule of Benedict has depth and wisdom to address these needs and more. The Rule is an amazing resource that can help us live more fully into our Baptismal Covenant, more deeply into our life in Christ and with eyes, ears and heart that seek God in the ordinary things of daily life.
Author Jane Tomaine would be happy to visit you and to lead workshops, seminars or retreats with small or large groups on the Rule of Benedict and Benedictine Spirituality as they apply to living richly and well. Her focus is on helping people deepen their relationship to God as well as to strengthen relationships not only with others but with self as well. Often we are our own worst enemy!
Programs are designed to be interactive and practical. Attendees will have an opportunity to explore the relationship between their lives and the main topic being discussed. This is done individually and/or in small groups with large group sharing.