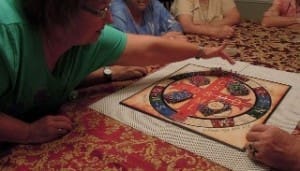 St. Benedict Rulez! – The Game
Question:  What has four categories of questions, a beautifully illuminated board, and challenges followers of St. Benedict to 'wise up'?
Answer:  "St. Benedict Rulez!" A board game based on the Rule of St. Benedict and an opportunity to test your knowledge of "all things Benedict".
All About the Game
How does the game work?  The game is designed for 2 to 8 players , ages 16 to adult.  It features over 100 questions about St. Benedict and his Rule.  The first player able to collect one card from each of four categories of questions [true/false, fill in the blank, multiple choice, fun facts] and return to the home square wins the game.  In addition to the game board and cards, there are 6 pawns and a die.
(A Word from Jane – My Benedictine group had a lot of fun with the game.  Our memories of the content of the Rule were tested and refreshed.  We had quite a few laughs, contrary to Benedict's mandates!  In true Benedictine form, the rulez of the game de-emphasize competition and are absolutely benign! )
The History of St. Benedict Rulez!
Several years ago, Barbara Croshier of the St. Benedict Study Group, St. Hilary's Episcopal Church Hesperia, California was responsible for the group's annual retreat program.  She dug up her "Trivial Pursuit" board, covered it with pictures of St. Benedict and his sister, St. Scholastica.  Then she made a list of questions related to The Rule as well as St. Benedict's personal history.  The game was a smash hit with the Benedictines.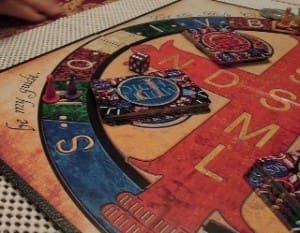 New questions were added each year until Barbara realized it was time to take her idea to the next level.  Using several texts, the questions and answers were verified, and more questions added to the original game.  [It must be noted here that  the group uses Jane Tomaine's St. Benedict's Toolbox as their road map.]  Ted Puffer, a member of the church, contributed his expertise in design by creating the graphics and his expertise in gaming by developing the rules [or should we say 'Rulez.']
Our sister St. Benedict group at Trinity Church, Redlands, California reports their group has thoroughly enjoyed playing "St. Benedict Rulez!"  We are constantly adding questions and expanding the game as we play and receive feedback from other fans of this unique game.
Here are some sample questions from the four categories. See below for the answers:
True/False
1.'Grumbling' can be punished in the monastery.
2. Benedict says we should live as though it is Lent all the time.
3. The Rule is not designed for ordinary people, but for initiates to a higher order.
4. The original 12 monks were all priests.
Fill In The Blank
1. According to Benedict's Rule, what two groups are to receive a special welcome?
2. Humility has ___ steps.
3. Where was Benedict born?
4. The most important gift of monastic life is imposing a framework of ____ on the pattern of daily life.
Multiple Choice
Cellarers should be everything except:
a. Mature, with good judgment
b. Like a father to the whole community
c. A good judge of wine
d. Not be a glutton      (Jane says, "LOL!")
Fun Facts
Each brother receives his bread …
1. unless biscuits are provided
2. at one pound per day
3. as flour, which the brother bakes
4. all he wants, if it is barley bread
Answers:
T/F:  T,T,F,F
Fill in the blank: 1. poor and pilgrims; 2. 12; 3. Umbrian province, Nursia, Italy; 4. prayer
Multiple choice:  C a good judge of wine
Fun facts: 2. at one pound per day 
Let Us Know What You Think!
The gamers are already considering a more challenging "St. Benedict Rulez! II" and welcome any and all suggestions for additional, informative and fun questions.  Email to stbenedictstudygroup@gmail.com.

This article was contributed by Kathleen Puffer, one of the astute gamers.
Thank you, Kathleen.
An intent player moves her game piece.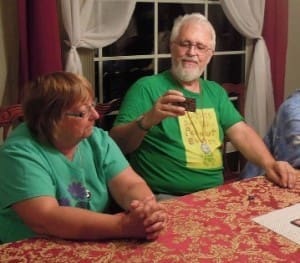 A gleeful player preparing to ask an opponent a tough question.