Give-A-Toolbox Project Update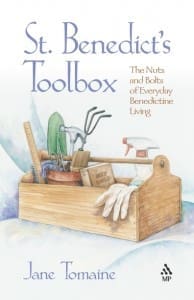 Through generous donations from across the country, 562 first editions of St. Benedict's Toolbox were  given free of charge to Christians in this country and abroad who cannot afford to buy books but who long for spiritual inspiration and practical guidance in the Christian life.  To all who contributed, many, many thanks!  Here's where the Toolboxes were sent.  A description of the project appears below this list.
A.I.M.  Alliance for International Monasticism
AIM USA is an organization composed of 140 communities of men and women in the United States and Canada who follow the Rule of Benedict and over 450 English-speaking monasteries in Africa, Asia and Latin America.  AIM USA provides spiritual, educational, formation and building assistance to monasteries in developing countries to enable them to be centers of life for others.  See http://www.aim-usa.org/.
BECAN –  Benedictine and Cistercian Association of Nigeria
With 23 member Benedictine monasteries BECAN  is a forum for the on-going dialogue of similarities and differences and mutual support on how to be Benedictines and Cistercians monks and nuns in contemporary Nigeria.  See http://www.aimintl.org/index.php/en/2015-05-29-13-29-49/bulletin-100/association-benedictine-et-cistercienne-du-nigeria.
Calvary Church Benedictine Group – Rochester, MN
Columba House – Diocese of Georgia
Located in the heart of Savannah, GA, Columba House is dedicated to building and sustaining an authentic Christ-centered community with the city's young adults. The House is an epicenter for Episcopal young adult ministry with frequent dinners and fellowship, discussion circles, & community events.  A residency program is also offered.  See http://georgia.anglican.org/?page_id=4755.
Episcopal Diocese of Newark
Grace Episcopal Church North Attleboro, MA – Thursday Bible Study
MANNA Program St. Paul's Cathedral Church Boston, MA
MANNA (Many Angels Needed Now and Always) is a ministry of and with the homeless community in downtown Boston. Various  programs support women and men across differences of class, wealth, culture, race and mental ability.  See http://www.stpaulboston.org/ministries/manna.
Northern VA Mental Health Institute- Falls Church – Diocese of Virginia
The National Episcopal Church – 35 General Convention Visitors
Operation Pass Along
Based in Eureka, AR under the umbrella of "The Anglican Digest, this organization provides a system of collecting books about the Church and usable vestments from those who no longer want or need them and passing them along to those who do at no charge other than shipping.  See http://www.anglicandigest.org/operation-pass-along/.
St. Benedict's Prep
Founded and guided by the Benedictine monks of Newark Abbey, this school encourages students to strive to grow in mutual respect, to work and pray together, and to take responsibility for one another. Through a rigorous college prep curriculum and vibrant extracurricular offerings, the goals are to develop the mind, stretch the heart, form character, and nourish the spirit.  See http://www.sbp.org/.
St. Benedict's WorkShop/The WorkShop  – Diocese of West Texas
Using and following the teachings of St. Benedict entitled "Tools for Good Works," The WorkShop offers reflection and study groups to help Christian laity become skilled in the tools of the spiritual craft in all aspects of daily life.  See http://theworkshop-sa.org/the-workshop.
St. John's Episcopal Church in Great Bend, Kansas and St. Michael's Episcopal Church in Hays, Kansas
St. Matthew and St. Timothy's Episcopal Church, New York City
ORIGINAL INVITATION TO PARTICIPATE – JUNE, 2015
Jane invites you to join a project to save needed books
from the nasty jaws of the pulverizer!
This summer a tenth anniversary edition of St. Benedict's Toolbox: The Nuts and Bolts of Everyday Benedictine Living will be published.  When Jane learned that remaining copies of the first edition would be ground to pulp (!), she resolved to rescue as many of these books as possible and put them to better use.  Rescued books will be given free of charge to Christians in this country and abroad who cannot afford to buy books but who long for spiritual inspiration and practical guidance in the Christian life.
Through the national "Give-A-Toolbox Project" which is being sponsored by Calvary Episcopal Church in Summit, New Jersey where Jane serves as a priest associate, donations will purchase as many doomed books as possible.  The good news is that the publisher most kindly reduced the price from $20 to $5.50 per book for this charitable project, a real help in maximizing the number of Christians who will be touched by the teachings of Benedict.
Read on to find out how you can participate!
 HOW TO PARTICIPATE
What amount should I give?
Any amount at all!  Here are two ideas to help you determine an amount.  You can contribute…
"By-the-book" –  Contribute an amount of $5.50 per book (1 book – $5.50; 2 books – $11.00; 8 books – $44, etc.)
                      OR
With any amount of your choosing
Your contribution will be tax-deductible.
How do I contribute?
BY CHECK
Make your check payable to Calvary Episcopal Church with "Give-A-Toolbox" in the memo line.   Please mail your check to the following address:
Calvary Episcopal Church
Give-A-Toolbox Project
31 Woodland Avenue
Summit, NJ 07901
BY CREDIT CARD OR PayPal
Contribute on-line by with a credit card or through PayPal by clicking here.
By when do I need to make a contribution?
We need your contribution by June 10.  The pulverizer's jaws will be looking for action soon after that date.
ALSO NEEDED ASAP – NAMES OF PLACES NEEDING THE BOOKS
If you are aware of churches or organizations needing spiritual resources, please send the names and contact information as soon as possible to Jane at janetomaine@stbenedictstoolbox.org.
THE CHALLENGE
A challenge is ahead of us.  There will be approximately 1400 books who want new homes with eager readers instead of being pulverized for no purpose.
Jane will let you know later in the summer how many books were purchased and where they will be sent.  To date 35 books were sent to the Office of the Presiding Bishop to be given to Anglican, Ecumenical and Interfaith visitors to General Convention and 25 to Operation Pass Along, a non-profit organization that collects books from people who no longer want or need them and passes them along free of charge to those who do.
HAVE A QUESTION?
If you have a question about the Give-A-Toolbox Project, please email  Jane at janetomaine@stbenedictstoolbox.org.   Or call Jane at 908-463-3252.
Please join Jane in the Give-A-Toolbox Project –
Bring inspiration to Christians near and far!
THANK YOU!!