Purpose of the Tool:  To help you incorporate Benedictine practices as you navigate life today.
Background on the Tool:  Benedict encourages us to act from the love of Christ (RB 4.20-21).  That that love will guide us to fulfilling the Benedictine aim of peace-making in a time when peace, external and internal, is rare and sorely needed.
The Tool:  One way to cut through any chaos is by looking for ways to bring peace to a situation.  This doesn't necessarily mean agreement, but staying connected in conversation in order to really hear what the other person is saying.  Peace also means taking action to right a wrong.
Below are some of the verses from the Rule that I used in my article.  Reading over the list, which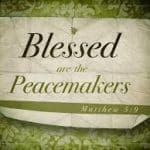 ones do you think would help you the most to be a peacemaker?  Write them down, memorize them, put them on tiny pieces of paper and stick them in your shoe, tape them on your mirror in the bathroom, recite them when you exercise.  Let them sink into your bones.  Then…Live them!  They will become a part of you and help you to be a peacemaker in the midst of a fray.
As you interact with others –
"Keep your tongue free from vicious talk and your lips from all deceit; turn away from evil and do good; let peace be your quest and aim" (Ps 34: 14-15).  Prologue
"You must honor everyone" (1 Pet 2:17).  RB
"Never do to another what you do not want done to yourself" (Tob 4:16; Matt 7:12; Luke 6:31).  RB 4.9
Take action to help others –
You must relieve the lot of the poor, "clothe the naked, visit the sick" (Matt 25: 36), and bury the dead. Go to help the troubled and console the sorrowing.  RB 4.14-19
Overall spiritual grounding in Christ –
Your way of acting should be different from the world's way; the love of Christ must come before all else.  RB 4.20-21
"Whoever hears these words of mine and does them is like a wise person who built a house upon rock; the floods came and the winds blew and beat against the house, but it did not fall: it was founded on rock" (Matt 7:24-25).  Prologue 33-34